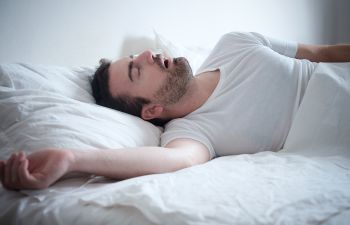 We see it played out repeatedly in television sitcoms and movies: the wife sends the husband to sleep on the couch due to his loud snoring. While snoring is a comical element in fiction, in reality, it can speak to deeper health issues. Snoring can be a sign of sleep apnea and can lead to some surprising and far reaching results.
Kinds and Causes of Sleep Apnea
There are two types of sleep apnea: obstructive and central. In obstructive sleep apnea, air cannot flow into or out of the nose or mouth. In central sleep apnea, the brain fails to send signals to your muscles that control breathing.
Sleep apnea can have several causes and are contingent on which type of apnea is present. For central apnea, the neurological breathing controls are not functioning, which leads to an irregular breathing rhythm. This type of apnea is usually related to an underlying medical condition such as heart failure or stroke. This type of apnea is not common.
Obstructive sleep apnea is much more common, affecting around 22 million Americans. The most common cause for obstructive sleep apnea is excess weight. During sleep, the throat and tongue muscles become relaxed, blocking the airway. This results in a lack of oxygen during sleep and can lead to snoring.
Dangerous Results of Sleep Apnea
For those who suffer from sleep apnea, the dangers it poses in daily life are many. Fatigue, mood swings, lost work productivity and being more prone to accidents are only some of the concerns that result from sleep apnea. Sleep apnea also increases your chances of heart attack, diabetes and stroke.
If you notice that you are feeling groggy, have low energy and are moodier than usual, you could be suffering from sleep apnea. It is vital that you be evaluated quickly to avoid long term consequences. The experienced staff at Estrella ENT, P.C. can diagnose your apnea and discuss the right treatment for you. Contact us today to schedule your consultation.